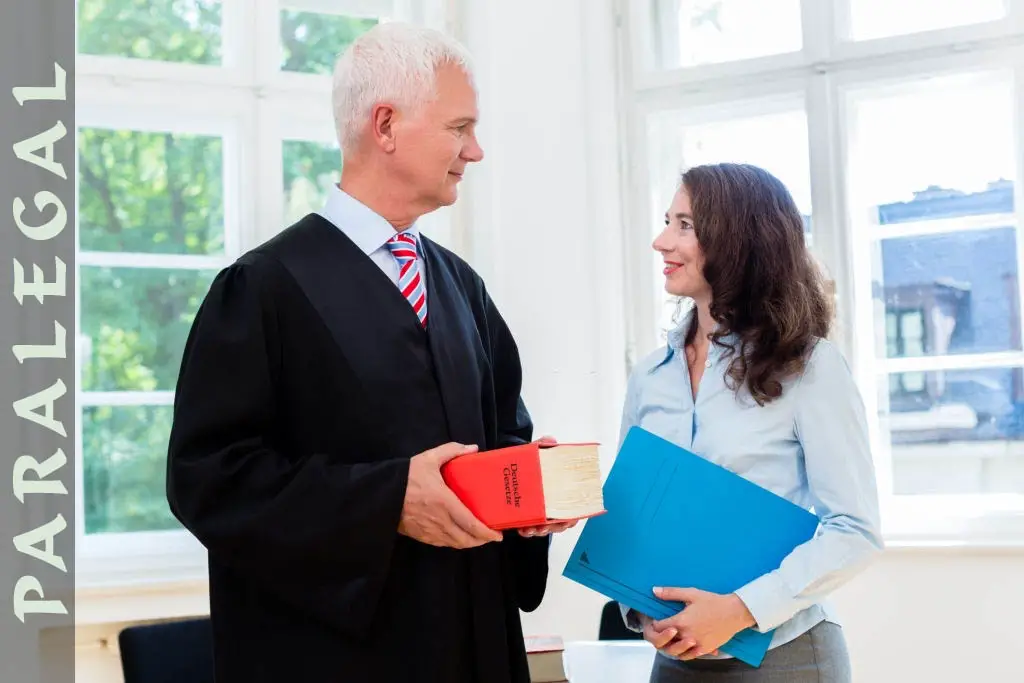 Who is a Paralegal?
Through training in law and legal administration, a paralegal is prepared to assist lawyers in their work by dealing with administrative and managerial tasks such as filing, preparing and drafting legal documents, handling correspondence, writing minutes and reports, organizing meetings, preparing presentations, welcoming customers, researching information, and many more.
They can also take care of simple legal procedures such as small claims court cases, property cases, insurance cases, amicable divorces, property deeds or even disability appeals. The paralegal is also authorized to take care of simple business procedures such as change of business name, simple business incorporations, and carrying out company registration.
The work of the paralegal is carried out under the instructions and supervision of one or more lawyers. The paralegal is not a lawyer; hence they are not permitted to handle complex cases, but they must be able to understand cases and assist lawyers in their work.
A paralegal can be a general practitioner or specialize in either labor law, testamentary and inheritance law, litigation, corporate law, securities law, criminal law or any other particular branch of the legal profession.
A paralegal can be referred to as a legal technician, paraprofessional, legal assistant or court clerk. In some cases, a paralegal can advance to the position of director of paralegals.
Who should be a paralegal?
Anyone can aspire and become a paralegal. But most importantly, those who have an interest in a legal field, but may have missed law school are the best candidates to become a paralegal.
Paralegals should exercise some levels of mastery in skills such as communication, research and investigation, and multitasking abilities. These are the skills that are taught in formal paralegal education programs but are useful if you already have them to some extent.
A good candidate is first and foremost a qualified paralegal who demonstrates adaptability, has a solid background and is ethically sound.
How can I become a paralegal?
According to the National Federation of Paralegal Associations, there are several ways to become a paralegal.
There are certificate programs, two-year programs, and four-year programs with all their attendant merits. The path you choose depends on your current role, level of education, and goals. Based on the current job market, it is recommended that paralegals have a four-year degree with at least 24 credits in legal specialty courses. There are also post-baccalaureate certificates, allowing those with four-year degrees in other fields to obtain the necessary credits and certification to get a job as a paralegal. Top-tier law firms usually like their paralegals to have a four-year degree with a certificate on top of that, if you want to go that route.
The NFPA offers a program for paralegal programs, but not all programs meet these standards. There are many resources online to help interested students find the right formal education program for them, and there is the option of an American Bar Association-approved program recommended by the NFPA. These programs have met or exceeded the standards for paralegals set by the ABA.
Once you have received a formal education, there is also continuing education that leads to paralegal certification.
It is different from the already mentioned post-baccalaureate certification. Paralegal certification requires that a paralegal have at least one year of experience and then pass a formal exam.
As a general rule, you must have completed a college paralegal program certified or recognized by a paralegal association. A paralegal must master the following fields of competence:
family law, administrative law, civil law, criminal and penal law, commercial and corporate law, labor law;
Civil Procedure;
jurisprudence and legislation;
trust accounting;
management of a law firm or a notary's office.
Does being a paralegal mean I cannot be a lawyer?
The decision to become a paralegal does not mean that you cannot become a lawyer. If you have an interest in becoming a lawyer, but you are unsure if you will excel in law school, it is recommended that you work as a paralegal and thus gain experience in a legal field. If you enjoy your journey in the paralegal field, then you can proceed to study Law. Law school is both very difficult and very expensive, so if you are not sure whether it is the right decision for you, finding a job as a paralegal is a more profitable investment that will you decide aright. It will also allow you to see the conditions under which lawyers work, which will probably help you in making your decision.
What Qualifications Are Necessary To Work In The Parallel Sector?
According to the BLS, a paralegal must possess the traits outlined below:
Organized, and collected
Rigorous and has an eye for detail
Excellent oral and written communication skills
Independent and resourceful
Enjoys working in a team
Know how to demonstrate diplomacy and takes initiatives
Discreet and loyal with the ability to maintain professional secrecy
Ability to manage stress and carry out several tasks at the same time
Computer literacy with proficiency in office and legal software
 How Is The Job Market For Paralegal Workers?
In recent years, the employment market for paralegals and related personnel have experienced some growth; this trend is expected to continue in the years to come. Indeed, the recruitment of paralegals depends not only on the continued evolution of laws and regulations but also on the rate of growth of the economy. It is good to know that the growth in the economic sector generates a 1.5% increase in demand for legal services and advice.
A paralegal can work for an independent lawyer, a law firm, a government agency, or even in a company's legal department.
The Bureau of Labor Statistics indicates that the employment outlook for the paralegal profession is growing by approximately 10% between 2019 and 2029, which is a faster-than-average percentage of growth.
If you are interested in a career that is growing faster than average, or if you have the necessary skills and are interested in the US legal system, a career as a paralegal may be for you.